This is part of the 'Girly Girl' Week here at Cheese-Wearing Theology.
********
I mentioned previously, illness that everyone knows that there are no girls on the internet. With that goes, of course, there are no geekettes. But, memes are often very very wrong. While there may not be a lot of geekettes, we're out there. In fact, there are some awesome, high-profiled geekettes that are paving the way for geekettes of all stripes. Whether it's math-loving, science-loving geekettes, or sci-fi-watching, gamer geekettes, here are a few women who are proud to be geekettes.

Felicia Day: Not only does Felicia have impeccable Whedonverse creds (Buffy the Vampire Slayer, Dr. Horrible's Sing-a-long Blog and Dollhouse), she has also turned her love of gaming into a web-based television show called The Guild. For anyone who has played a MMORPG like World of Warcraft, this show is a must see. It does a great job of poking fun at gamers, while also highlighting the amazing bonds of friendships that can be built through a video game.
*****


Mayim Bialik: Not only does starring on the television show Big Bang Theory give her 'geek cred', after the show Blossom, Mayim went off to college and got a PhD in neuroscience! How cool is that?! She has taken her love of science and created a science curriculum for homeschoolers.
*****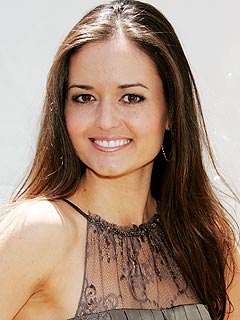 Danica McKellar: Most of us remember Danica as 'Winnie Cooper' from The Wonder Years (oh, late 80's/early 90's how I miss you!). After the show, Danica went to college and majored in mathematics. She has written three books for teenaged-girls Math Doesn't Suck, Kiss My Math, and Hot X: Algebra Exposed. The books are about how cool math is and how it's not just for guys.
*****
I should also give a shout-out to two geekettes in my life: my two sisters-in-law, Monique and Sabrina. It was through them that I learned about and started playing World of Warcraft. (Oh, wait, is that really a good thing? Some days I wonder lol).
Who are the geekettes in your life?
If you are a geekette, give yourself a shout-out in the comments.